Compassion in Action
This article is the postlude to my third one,  Mapenzi is Vegan – Vegan is Love,  where I share my thoughts on compassion in animals, science, and music; relayed in three parts, respectively.
In this article, I share information about organizations and individuals who embody compassion.
Part Four:  VegFund  
| | |
| --- | --- |
| | |
| |   Kim Dreher (vegan) |
VegFund is an organization that empowers vegan activists worldwide by funding and supporting outreach activities that inspire people to choose and maintain a vegan  lifestyle.  VegFund is a great organization; they are generous, helpful, progressive and prompt. (In October, 2013, I gave a vegan presentation to students at Becker College during their class, Introduction to Psychology.  VegFund provided the funds for the Tofutti and So Delicious vegan ice cream sandwiches that I served to the students.)
I often think about Ghandi's quote, "Become the change you wish to see in the world."  Recently, I asked Kim Dreher of VegFund a couple of questions on this topic.  Reprinted here, with her permission, are her answers.
What are the most significant changes that you've noticed, in 2013, in  relation to non-vegans openly receiving the vegan message, and "becoming the change"?
For the past 3 years, I've had the pleasure of working for VegFund, a  non-profit grant giving organization. Our mission is to empower  activists worldwide by supporting outreach activities that inspire  people to choose and maintain a vegan lifestyle. As VegFund's program  director, I have the unique opportunity to review hundreds of vegan  outreach events and projects, and without a doubt, 2013 was a fantastic  year! Non-vegan individuals, both in the United States and abroad, seem  to be increasingly receptive to veganism. More individuals than ever  before are pledging to try veganism and are signing up for vegan  mentoring programs, like the Peace Advocacy Network's
Vegan Pledge Program
. Oftentimes, when VegFund grantees are giving out
vegan food samples and educational literature
, people will come up to the table and say that they have a child,  friend, or co-worker who is vegan, and that they want to learn more so  they can be supportive. The increasing level of curiosity and  acceptance the general public has towards veganism is moving us ever  closer to a world where all beings are treated with compassion and  respect.
Do you see any signs that the public-at-large (including academic and  religious) is willing to look deeply into the philosophy that violence  towards animals is at the root cause, as described by Dr.  Will Tuttle, of other social justice, health, and environmental  problems?
I've been very encouraged by both the number of vegan events that are  focused on the commonalities of oppression, and by the public's positive response to these events. Recently, for example, 
Guelph Pig Save in Canada hosted the "Human Rights are Animal Rights" conference, which  enabled vegans and non-vegans to learn new ways to expand their compassion and activism. The conference was well-attended, and one of the  recorded presentations was later broadcast on a local radio  station! Earlier this year, Dr. Harper hosted a web conference that helped attendees understand 
how veganism is connected to social justice, racial justice, and animal  liberation. These are just a couple examples of the many great events  that are raising public consciousness. From new groups like
Equality in Action
 in the UK, to individual vegan activists who bring the message of  compassion to their places of worship, more and more people are starting to draw the connection between veganism and a non-violent world.  
To see pictures of the creative ways VegFund grantees are promoting  veganism, and to learn more about VegFund's programs, visit: 
https://www.facebook.com/VegFund
Thank you, Ms. Dreher, I appreciate your service, and the time you gave to answer these questions.  VegFund is an efficient and effective organization that is leading the way in actualizing peace on earth.  Gracias, VegFund, merci!

Part Five:  Compassion in Action: Movies

These seven fantastic films will enlighten your soul, warm your heart, and restore sustainability.
Peaceable Kingdom: The Journey Home
In addition to watching this film, it's interesting to view, on their website, the national/international list of free screenings.   The most notable, in 2013, was a showing at Christ the King High School in Queens, New York to over 1,000 attendees and hosted by Fr. Frank Mann.   (My World Peace Diet Facilitator colleague, Nina Vecchi and I also  hosted this film, at the public library; and thanks to VegFund, we  served Nina's delicious, homemade vegan corn muffins and chocolate chip cookies.)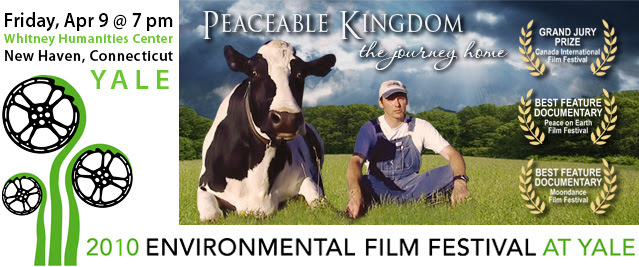 This is it..for the new millennium, let's revamp the required curricula of schools to include Reading, Writing, Arithmetic, and Earthlings. This movie was funded by Australian philanthropist and former VP of Citibank, Phillip Wollen.   (Their new film, Unity, has just been released.)  Here is a 5 min. video, "Who is Philip Wollen?"
A Delicate Balance – The Truth
Another very important documentary for anyone concerned about their health and the environment.
"You never know what you've got…til it's gone."
A fun film; it's a movie, not a documentary, and makes a great date night movie. Be sure to check out the Bonus Features interview with former NBA star, John Salley.  
| | |
| --- | --- |
| | John Salley (vegan) |
This 2013 production just opened in Texas. I'm looking forward to seeing this film about the U.S.  animal  agriculture industry.
The scenes and topics in these films are, still today, kept out of the holistic, alternative, and mainstream media, music, conversation, sermon, and classroom.   Please consider hosting one of these films in your community. It's important, uplifting, and a very effective way to reduce suffering and bring compassion into our world.  Another documentary not to miss is The Ghosts in our Machine (produced by two women), and the environmental documentary, Cowspiracy (produced by the World Peace Diet Facilitator, Kip Andersen).
As Daphne Stevens, our January 2014 guest author wrote, "What we learn when we are young, we learn best."
Part Six:  Children's Literature
Ms. Ruby Roth rocks!  Her series of children's books, V is for Vegan – the ABC's of Being Kind, Vegan is Love, and That's Why We Don't Eat Animals is revolutionizing the world.  
Part Seven:   Essenes and Compassion
                         in Christianity
 Better is a dinner of vegetables
            where love is
than a fatted ox and hatred
        with it.
                       Proverbs 15:17  (New Revised Standard Version)
The opposite of love is fear.  Hatred is fear.  God is love.  Every Christmas, manger scenes include peaceful, adoring rams and oxen alongside the baby Jesus.  There are never scenes with a ram, ox, or billygoat hanging upside down,  painfully and fearfully tied by his back leg, bleeding out from a slit throat.
Likewise, as the dove symbolizes the peace of Christ, she is always shown peacefully in flight.  Never do we see images of the bird strung up by her legs upside down, frantically flapping her wings in pain and terror prior to her slaughter.   Clearly, Christianity is a faith, I believe, initiated by the Lord Jesus Christ to remind us that the way to salvation is through practicing unconditional love to non-human animals, ourselves, and all of humanity.
This first link  is to a great one-hour lecture by Keith Akers, author of The Lost Religion of Jesus – Simple Living and Nonviolence in Early Christianity.  This second link is to a 15 minute video that also includes Akers, with subtitles in 20 languages.  This third link is to a 40 min. lecture by Gabriel Cousens, M.D., Essene and founder of the Tree of Life Foundation.
All the major religions contain references to veganism.  Here is a link to multiple articles about veganism in Christianity, Jewish – Judaism, Muslim – Islam, Hindu, Buddhism, Hara Krishna, Sikh, Jain, Zorastrian, Pythagorean, and Native American faiths.
"The Merciful One shows mercy to those who are themselves merciful (to others). So show mercy to whatever is on earth, then He who is in heaven will show mercy to you." (Abu Dawud, Tirmidhi)  "Blessed are the merciful: for they shall obtain mercy." (Matthew 5:7)
As we sow, we reap — go vegan for peace on earth.
Part Ate

:
         
Part Eight: Physician's Committee for
                       Responsible Medicine
PCRM and its founder, Dr. Neal Barnard are the best!  Here is a link to a  l hr. lecture by PCRM's Dr. Milton Mills, "Are Humans Designed to Eat Meat?"
 
Dr. Milton Mills (vegan)
Part Nine: The World Peace Diet
My mentor, Dr. Will Tuttle, has given and continues to give free
 lectures
around the world. 
As I write this, he and his wife, Madeleine, are on their Jan/Feb. 2014 lecture tour throughout Taiwan, Australia and New Zealand. Their Summer 2013 lecture tour included Slovenia and Croatia.
Will and Madeleine's mission is to help humanity understand that liberating and honoring the feminine principle ('Sophia') is the most pressing task in our culture's evolution toward peace and sustainability.  In our herding culture,  feminine qualities are not respected because the work of confining and killing animals requires men to become cruel and to emphasize their separateness from and superiority to animals,  nature, and the life-giving processes of the feminine.  Beings who are subjects of their lives are forced into the role of mere objects, and both people and animals end up becoming things. Our ability to heal, transform, and evolve beyond this old defiling mentality is tied to our food choices more than to anything else. 
Bovine breast milk (udder milk?) is for calves. 
                   We can wean ourselves with willpower.
                                         Now's the time to be nourished from milk derived from grains, nuts, and seeds.

Honoring our natural place in the web of life by eating the foods intended for us will plant seeds of abundance, love, and freedom, whatever our religion may be.  In his book, The World Peace Diet, Dr. Tuttle writes,
To meditate for world peace, to pray for a better world, and to work for social justice and environmental protection while continuing to purchase the flesh, milk, and eggs of horribly abused animals exposes a disconnect that is so fundamental that it renders our efforts absurd, hypocritical, and doomed to certain failure."
Part Ten:  V-Day and Vegan Unity

The Ivy league Vegan Conference was held February 7 -9 , 2014.
And today, February 14th, the young folks at One Billion Rising – Perth are powerful!  The Sexual Politics of Meat is now exposed.    Dance on,  One Billion Rising, dance on!!
"How can we expect our society to respect the rights of human women when those same women don't respect the very basic rights of other female animals? I would go so far as to say that it's not only a feminist issue, but it's the biggest feminist issue there is." (quote by Angel Flinn)
In the World Peace Diet Facilitator training,  we learn that in cruelly exploiting dairy cows, goats, and hens we dominate them not just for their flesh that we can use or sell, we specifically exploit their uteruses and mammary glands.  By enslaving and exploiting sows, cows, ewes, hens, and heifers, we attack and injure the sacred feminine within ourselves as well as nature; we haven't yet realized this because we've been taught to disconnect from their grief and suffering, and to erroneously believe that their oppression, pain, exploitation, and enslavement has no interrelationship to ours.  Coretta Scott King discussed the importance of non-violence.  Here is a tribute to Coretta Scott King. 
Louisa May Alcott wrote,
"Vegetable diet and sweet repose.  Animal food and nightmare…Without flesh diet there could be no blood-shedding war."
Human wars and the war on women will not end until the war on animals ends.  In her book, Peace to All Beings, author Judy Carman writes,
Reverence for all life is the missing piece to the puzzle of world peace, inner peace, and environmental healing and sustainability.  Futurists, mystics, philosophers, and scientists declare that we are evolving to a higher level of consciousness at this time in our history and awakening to our destiny as non-violent, compassionate beings.  When violence to animals ceases, then violence to humans will cease, because we will finally be living our true nature."
 When Eve Ensler's terrific campaign, One Billion Rising, draws the connection between veganism and a non-violent world, I imagine that their campaign will include 'carnism' as one of the interlocking forces that perpetuate violence against women and girls; and veganism as part of the solution to end violence against girls and women.
 We at World Peace Writers look forward to 2015, when One Billion Rising V-DAY GO VEGAN!
To all those working for noble change, I say "Asante sana, Medasi bebre, Thank you very much."
One of the motivations for this post is that I am making preparations for an upcoming vegan presentation to 25 university students. (As I mentioned in Part Four,  I gave a presentation to students in their Introduction to Psychology class.  The professor, Ms. Laurie Drazek has invited me to give another vegan talk this semester to students in her Human Growth and Development class.  Thanks again to VegFund, these students will get an opportunity to sample  vegan desserts – ice cream sandwiches, as well as Loving Hut's chocolate cupcakes.)  In this upcoming presentation, I plan to include several of the above listed resources.  In addition to sharing Kim Dreher's compassionate, motivating message and links, I'm honored and grateful to be able to share all this information with our WPW readers.
Thank you for caring enough to hear and be heard.  Peace. 
Marlene Ahimsa Nareau   January 31, 2014,  Updated 2-14-14
Share and Enjoy